This post was written by Jill Hinton. Jill is an Army Veteran, an enterpreneur, and a regular contributor to Command Your Business.
-Scott
---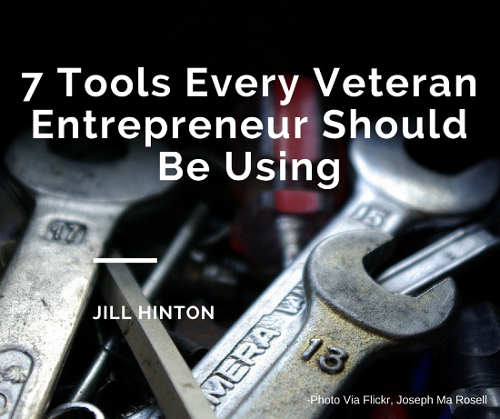 Veterans are twice as likely as civilians to start a business, and the five-year success rate of veteran-owned businesses significantly surpasses the national average. That makes us vetrepreneurs a pretty special group of people! It also means that we tend to be good at taking advantage of available resources (just like we did when we were in the field).
Fortunately, there are a lot of people and organizations out there that want to give us a hand up when it comes to launching a successful business, whether its mentoring, funding, education or even discounts on office supplies. For this article I wanted to go beyond the typical (and obvious) resources like the Small Business Administration for Veterans and Veterans Affairs Department and find lesser-known resources that are working to fund and promote veteran-owned businesses.
This unique educational program offers experiential training and small business management guidance to post-9/11 vets with service-connected disabilities (as well as military family members who serve in a caregiver role to a veteran with a service-connected disability). EBV opens the door to entrepreneurial opportunities for vets by offering a whole array of resources, including training and mentorship, to help them launch a successful and sustainable business.
This one's just for the ladies! Also known as Veteran Women Inspiring the Spirit of Entrepreneurship, this was a program I went through last year, and has been integral to my success a business owner (taking third place in the 2014 business plan competition didn't hurt either). If you're a female vet and haven't signed up for one of their conferences yet, what the heck are you waiting for? An invitation? Fine. Here you go. Tell them Jill Hinton (jill @ outdoorbookclub dot org) sent you.
One of the most popular (and oldest) mentoring programs for entrepreneurs everywhere, SCORE offers some special perks just for veterans, including significantly discounted resources for starting businesses as well as online training specifically designed for veterans.
Recently featured in the Wall Street Journal, the VetFran offers some very attractive financing resources if you're a veteran looking to buy a franchise. They also offer education on the franchise industry, financial assistance and industry mentorship.
The VOF, a specialized venture capital fund, is the first VC organization formed to invest in businesses that are started/owned/managed by veterans. It's focused on technology startups, but also interested in healthcare, businesses and specialty manufacturing.
The MBA for Veterans program is a fast-track MBA in entrepreneurship specially designed for military veterans. It builds on the education, experience and skills they learned in the military and provides a business education that is both culturally relevant to veterans and prepares them for business ownership and leadership roles.
Several large companies including Apple, Dell Computers, Chase Bank, U.S. Bank, American Express, AT&T Wireless (in fact, nearly all wireless companies offer some sort of a veteran discount — just ask) and more offer discounts for veterans, which is helpful when trying to cut costs while funding a new startup. Check out veteran-owned startup ID.me for a one-stop shop of online discounts (CEO Blake Hall was featured on CYB Episode 5) .
Have I missed any veteran-exclusive resources, tools or discounts? Leave your suggestions in the comments so we can all take advantage of them!

Jill Hinton is an Army Veteran, freelance writer and the founder of Outdoor Book Club as well as the blog Dating In Your 30s. She is a regular contributor to Command Your Business.
---